Celebrating Mummy's Birthday at Sun With Moon (Wheelock)
Mummy and I. Yes I know I look like my mum. :)
Chersamme Peplum Top(Similar to SMooch but $2.50 cheaper), SMooch Aimee Spacedye Cardi, Topshop Bandage Skirt, Love Bonito Hilary Heels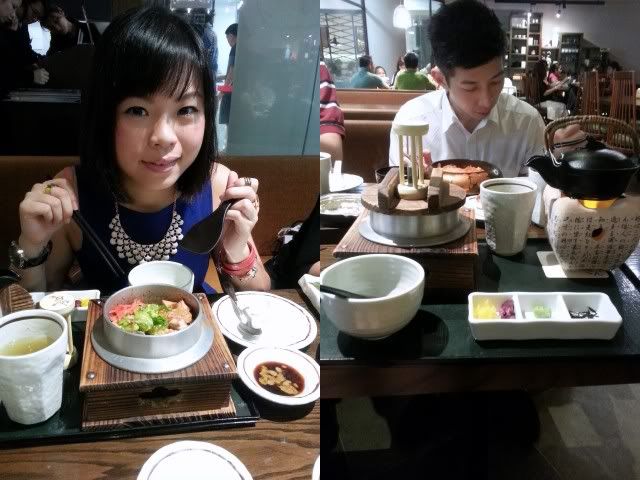 Hello to babyboy and my dinner! :)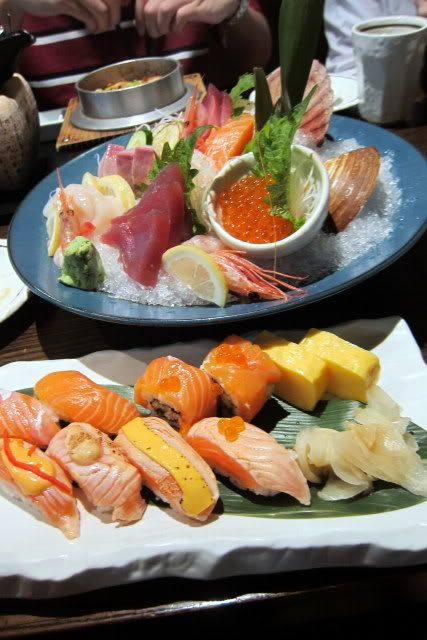 Probably the best dish on the table. Sashimis & Mummy's plate of salmon in all kind of preparation.
Dinner came up to a total of $215 which is really expensive but its fine once in a blue blue moon.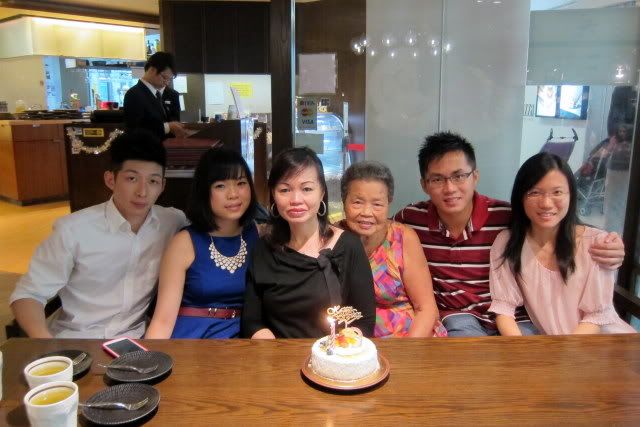 Us on that day.
Happy Birthday once again to the most beautiful woman in my world!
Brunch Date with Agnes & Gwen - Suprette(Jalan Besar) & K Ki(Ann Siang Hill)
Loving the HerVelvetVase Camo Jacket
Die die have to take a pic with the signboard thus explains the weird angle. haha!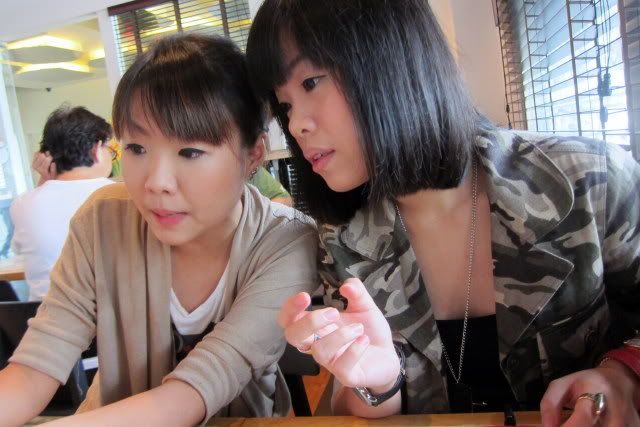 Candid pic of Gwen and myself taken by Agnes.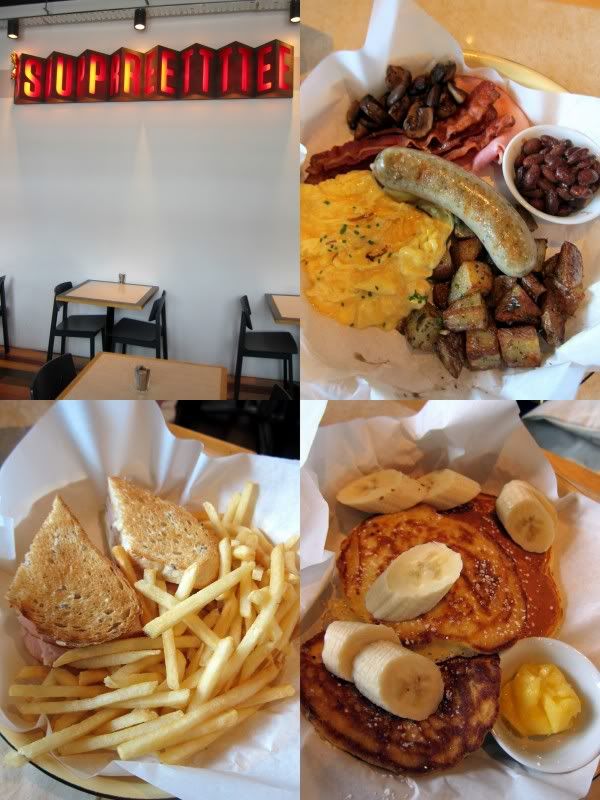 In Clockwise - The Besar Breakfast, Ricotta Pancakes & The 383.
Personally loving the Besar Breakfast cos I eat everything there & Ricotta Pancakes is MUST TRY! Love the combi of pancakes & bananas!
Twinnie on that day. We arranged it laaaa. haha! Not many can accept the idea of wearing Camo and she's one of the few. Whee!!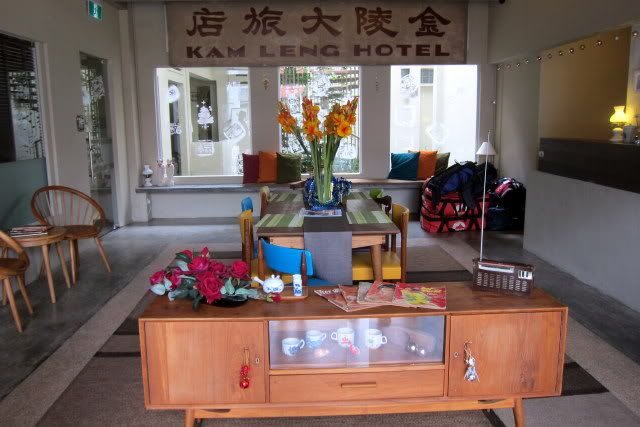 The entrance of Kam Leng Hotel where you can find Suprette on the left.
The hunt did not stop there and then that Saturday. We went to explore K Ki on Ann Siang Hill. Pretty impromptu.
Love this Japanese concept store.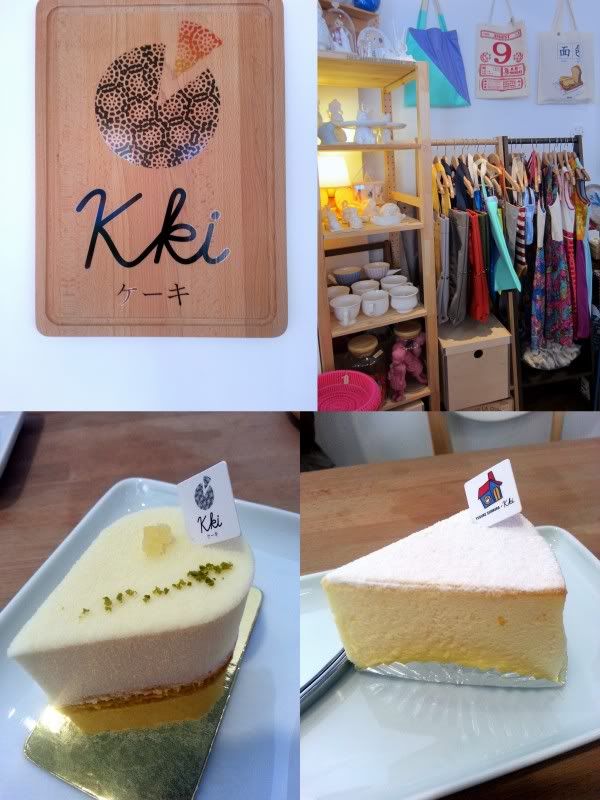 Their cakes are really soft & fluffy and priced around $8 to $9. Pretty expensive for cakes.
The inside of the store is really small and cosy which can squeeze about 5 tables plus a corner selling merchandise.
Great place to chill & rest your legs. :)
Love to spend the Saturday in this way.
and then we walked all the way to Outram Park Station and managed to find The Mayor of Tiny Town. Looks like an interesting place to check out the next time.
Menu is hung outside the shop for easy reference.
Sunday Brunch with the boy (Chye Seng Huat Hardware Coffee Bar)
Woke up pretty late like 1.30pm cos of the massive jam at JB. Gosh. Just to satisfy the loklok craving. haha.
Quite rare that BF suggested food hunting cos he's always the safe person. Once he like to eat something, he'd stick to that always. YAY!
So we went to CSHH - Chye Seng Huat Hardware Coffee Bar
and yes, the entrance is at the side.
Menu is pretty simple. One-page and desserts are what you see is what get. Heard from Gwen that the blueberry crumble is so must-try that it always get OOS. Well, I'm not that lucky either. It was OOS when I was there at 3pm.
2 cuppas brewed coffee, Ham Omelette w/ Grilled Tomato, Toast & Green and Pancake Stacks w/ Blueberries
Total bill at $28.50. Coffee is slightly expensive. $5/cuppa. Not really my "cup of coffee". Would probably try their Espresso w/ Milk next time. Worth a revisit especially the omelette. Suprette Pancakes won CSHH a little. Since both are so near(just across the street), you can always drop by Suprette first then CSHH. haha!
Some other random pics.
Top from BKK, H&M Belt, Topshop Skinnies, Love Bonito Fanning Flats, CC Skye & Coach Bracelets.
Recently loving skinnies thus I bought a pair from Zara. Too awesome the cutting! Plus a pic with BF while waiting for our turn

to thread the brows.
Monday is always so sucky and I'm feeling so blue right now. POUTS. Good night all!
Formspring Me:
http://formspring.me/mEiHo
Updated Selling Post:
http://iwansellmystuff.livejournal.com/
Follow me on Instagram: meihodotcom